This year we had the opportunity to participate as an exhibitor on the Rolling-NET IT Congress in Budapest, which as the name also, focuses mainly on the IT technologies in the railway industry. This is the first congress, which besides the usual railway topics deals with automation and IT technologies in the railway sector like the IoT.
When one looks at the program of this event, the goal was to be varied, and in this way it touched almost all areas of the railway automation & IT industry sector. Among the presentations from the well-known names visitors could meet also exhibitors, from the railcar manufacturers to consulting companies for the railway sector. Beside the interesting lessons, visitors could enjoy also the visual effects, because the styling & arrangement of the event was really interesting, on some places of the event you could be in the rail couches, or on the railway platform etc.
We would like to thank to all our visitors & partners, that they visited us during this imposing event, and we are looking forward to a successful cooperation in the future.
The Company of the Year competition, with its all-branch and regional influence, is one of the biggest entrepreneurial competitions in the country. With quality set rules, the competition upholds maximal objectivity of assessing the contestants, and it creates a truly unique mutual comparison of participants in each region and in the whole Czech republic.
"I am glad that the Olomouc region has again proved to be entrepreneurially strong region. Originality, tradition, a great deal of social responsibility, and even mutual regional support, all are features that our local entrepreneurs show," said jury member Petr Kovala from ČEZ ESCO about the regional round.
Vodafone Company of the Year 2016 in Olomouc region:
ALIKA, a.s. – roasting, packaging, chopping nuts, dried fruits, and seeds (Čečice)
Koutný, spol. s.r.o. – production of classic men's clothing, tailored suits and career clothing (Prostějov)
OLTIS group, a.s. – integrator of information systems (Olomouc)
Those interested in participating in the contest Company of the Year 2016 answer simple questions that characterize the company's business and describe their entrepreneur story. An integral part of the evaluation of companies is also, so called, "scoring" which assesses financial indicator of the companies. Scoring is computed by a specialized software on the basis of gross return on equity and assets, current liquidity, acid test ratio and total debt, but also its structure, turnover of assets from revenues, operating margins and labour productivity. The company can gain maximal scoring of 2000 points. Scoring and entrepreneurial stories of companies then both have the equal value of 50% in the final assessment. An expert jury, consisting of representatives of partners, associations, and guilds (more in Partners), then votes in each individual region. For each regional round there are 10 companies with the highest assessment of financial indicators, so called scoring. The order of companies in each region is then determined by an expert jury (50%) and scoring (50%).
Only 14 winners from each region then advances into national finals of Company of the Year 2016. The winner of the final round is picked by a national jury. Winning companies from all regions present themselves in front of an expert jury. In this final round, it is all about the capabilities and abilities of the presenting companies, whether the companies can find their way in competitive environment, how ambitious and down to earth their entrepreneurial plans are, and how the contribute to the development of their surroundings.

The eleventh seminar for users of applications of companies from the OLTIS Group was held on 6 and 7 October 2016. This event enjoys great popularity among the customers of companies JERID and OLTIS, as evidenced by the annual great attendance. In total, 70 users from 29 companies participated in both sections this year.
Like last year, the program took place in two separate sections, the section for forwarders and the section for carriers. The program of both sections consisted of lectures focused on acquainting users with the latest innovations in applications and lectures given by external speakers, addressing the current issues in the field of rail freight forwarding and transportation. This year, the afternoon part was common to both sections.
In the section for carriers, one of the main points of the morning program was the lecture by Mr. Futera from the SŽDC, on innovations in the implementation of TAF TSI in SŽDC's applications. Among others, the program also included a presentation of what has happened over the last year in products of OLTIS Group. Innovations in IS EVAL, linkages to the infrastructure manager in Hungary and the current development of the Logistic Web Portal were introduced by Eman Mikoška and Tomáš Kroča. Participants also learned interesting information about the upcoming international railway conference IRFC 2017, which will be held from 22 to 24 March 2017 in Prague.
A completely new product with the brand name SIMON II was introduced within the morning block of the forwarding section. Full operation start-up of this new web application for displaying positions from GPS units on wagons and locomotives was announced already during the last year's seminar and the majority of participants of this year's seminar were curious to see the final form of this new product designed by OLTIS Group. The main advantage of the SIMON II application over competing applications is that it integrates specialized functions to support the railway transportation. This particularly relates to the function of assigning the closest railway station to detected coordinates and counting mileage according to the actual distance "on rails". All participants also exhibited great interest in the lecture which introduced the new program FRED – a full-fledged Internet version of the program ERIC. Already during the seminar, several participants required access to a test version of this program.
Other lectures should be mentioned as well. Like every year, the users of NEWSPED information system were acquainted with the innovations that had been integrated in this IS over the past year. The lecture about the upcoming conference IRFC 2017 was also interesting.
The afternoon common session included lectures of external speakers. In its introduction, Mr. Jiří Vorel of ČD Cargo acquainted us with the history and attractions of steam locomotives. This "relaxing" theme was followed by a lecture on the topic of changes in the EU Customs Code, given by Mr. Tomáš Svozil from the Přerov Customs Office. This topic drew great attention of the present representatives of forwarding companies because most of them meet with this theme on a daily basis in their work. The afternoon session and the whole technical part of this year's seminar was ended with a lecture of our traditional speaker, Mr. Stanislav Hájek, who informed the present participants about the upcoming changes in the transport of dangerous goods – RID 2017.
Completion of the professional part of the seminar was followed by a social evening which included a bowling tournament of individuals – 11th PEPA Memorial Tournament. A nerve-wracking battle was struck for standing on the winners' podium. It was seen that a good standing in the bowling tournament associated with the seminar is a matter of prestige. The results of this competition were as follows:
In the women's category, the first place belonged to Zuzana Horniaková (Investex Group), followed by Mrs. Libuše Boučková (Spedica) on the second place and Mrs. Šárka Stratilová (ČD Cargo) on the third place.
In the men's category, the first place belonged to Mr. Lukáš Droppa (AWT), followed by Mr. Petr Blahuš (SD Kolejová doprava) on the second place and Mr. Jan Dlouhý (Spedica) on the third place.
In another category, Talent of the Year, Mrs. Barbara Lubojacká (AWT) and Mr. Michal Hanták (BudamarLogistics) were the first among women and men, respectively.
The highest scores, 167 and 173 points, were achieved by Mrs. Zuzana Horniaková (Investex Group) for women and Mr. Lukáš Droppa (AWT) for men, respectively.
We thank all participants for a very nice and friendly atmosphere which they helped to create through their presence and enthusiasm. We are looking forward to the next year's seminar where we will meet with many of them together again.

The OLTIS Hungaria Company participated at this year´s forum of Hungarian carriers, which was held on October 12, 2016 directed by the Forum Academy.
Participants of this conference were introduced to not only series of specialized lectures but also had the opportunity to get acquainted with our company's IT products and solutions. Moreover, we have agreed to arrange several more in-depth and comprehensive presentations along with demonstrations of our IT solutions for our visitors. In addition to the Forum of Hungarian carriers, it will be another very important event for our company, The Forwarding Conference that will be held on 1-2 December 2016 in Radisson Park Hotel in Budapest.

The eleventh year of Europe's largest transport technology fair – InnoTrans 2016 – was held in Berlin on 20-23 September 2016. Exhibitors and companies associated with the OLTIS Group have traditionally participated in this fair. Their representative exposition was located in Hall 4.1, Stand 312.
The participation in this particular fair was a great success for us, both in business and professional means. The evidence of our benefit arises from the number of meetings attended by representatives of our current and potential customers, partners from academia and international organizations. We participated in a number of conferences, introduced innovations of our products but also presented new trends in the area of information systems for transport and logistics.
The independent part of our participation was the presentation of a European research project CAPACITY4RAIL, which took place at preassigned times at our stand during the three days of this fair. Together with our partners from the UK and Sweden (NetworkRail Swedish Transport Administration, TRL, IFFSTAR and Birmingham universities and Linköping), we were delighted to introduce results achieved in the project SP3 – Operations for enhanced capacity. The OLTIS Group promoted and presented two applications for this project: CAIN (CApacity of INfrastructure) – Implementation KADR for Swedish infrastructure and CAPTAIN (CApability Trade-off Automation model of INfrastructure) – Reference model to compare railway infrastructure and the automation capabilities.
In addition, the next event at our stand was "The Hungarian afternoon" on 22 September, which was organized by our subsidiary company OLTIS Hungaria. The visitors could attend all presentations about our products in the Hungarian language.
All our business partners who visited our stand, we thank you for your participation and we look forward to our further cooperation!

On the July 8, the EU Member States officially approved transport projects that will receive €6.7 billion of funding under the Connecting Europe Facility (CEF) fund. Projects submitted under the Cohesion call may receive a co-funding rate up to 85% of the eligible costs.
From the total number of 427 proposals, 195 projects were selected, which will significantly contribute to digitalisation and decarbonisation of transport. A list of successful projects also includes a project of the company OLTIS Group with a budget of €1.1 million, under which the implementation of TAF-TSI specifications at ten private railway operators will be delivered in the Czech Republic and Slovakia in 2017-2019.
The main objective of the project is the implementation of standards for TAF-TSI data exchange in information systems used by private rail operators for planning and operational support of their activities. The TAF-TSI (Regulation on the technical specification for interoperability relating to the telematic applications for freight) requires that existing functionalities are enhanced by communication with infrastructure managers, cooperating operators and wagon keepers. The project aims to implement the above functionalities based on TAF-TSI so they can be effectively used by private operators.
This project aims to help private operators who have not yet used complex systems operated by large or national operators and who must now meet the requirements in terms of complexity of the required functionalities. The project will allow these private operators to achieve full interoperability when employing less costly but equally complex solutions compared to big national operators.

CID International Company organized an individual's golf tournament CID Golf Cup for its friends and business partners on Thursday, 21 July 2016.
Venue: Park Golf Club Ostrava, Dolní 412, Šilheřovice
This tournament was part of the third year's GOLF RAIL IT TOUR 2016 and simultaneously the third tournament of this year's golf tour.
Results: 
Category Bronze – Common HCP 34,1 – 54
1. Jan Jakeš (private person)
2. Petr Sedláček (S&G safe grow s.r.o)
3. Lucie Jirků (private person) 

Category Silver – Common HCP 22,6 – 34
1.  Martin Hapl (Rankenen a.s.)
2. Milan Šubrt (Josef Mička)
3. Štefan Mestický (Oltis Group)
Category Gold – Common HCP +9 – 22,5
1. Jan Holeš (Rankenen a.s.)
2. Tereza Hoffmannová (ALMA Consulting Group Česká republika, s.r.o.)
3. Luděk Telecký (TECHNISERV IT, spol. s.r.o.) 

Longest drive MEN
1. Jakub Szurlej (Schavemaker Invest Sp. z o.o.)
2. Marek Ambrus (LOKO TRANS Slovakia, s.r.o.)
3. Petr Baroch (České dráhy a.s.)
Longest drive WOMEN
1. Leona Žáková (private person)
2. Tereza Hoffmannová (ALMA Consulting Group Česká republika, s.r.o.)
3. Tereza Skládanková (TECHNISERV IT, spol. s.r.o.)
Nearest to the pin – Miroslav Waleczek (Hyundai Motor Manufacturing Czech s.r.o.) –  1,35 m
Overall results of the Gold Rail IT Tour
1. Luděk Telecký (TECHNISERV IT, spol. s.r.o.)
2. Jiří Nepustil (INDI s.r.o.)
3. Marek Lošťák (ORBI TRANS s.r.o.)
We would like to thank all competitors for their active participation and we look forward to our next meeting at other events organized by associated companies within the OLTIS Group.

The relay running race SNĚŽKA – PRAGUE took place during the weekend of 25 – 26 June 2016. A group of 3-7 runners had to face a day and night continuous relay run of 197km from Obří důl pod Sněžkou to Prague's Troja.The entire route with the elevation of 2083 m ascent / descent 2951 m, was divided into 20 sections. Each of seven-member team run three approximately ten kilometres stretches.
The seven-member OLTIS Group team formed also by two women and with an average age of 44 years, started from Obří důl pod Sněžkou on Saturday at 6:30pm and finished their run to Prague on Sunday shortly before 11am. The OLTIS Group team occupied an excellent 7th place out of 26 participating teams with its final time of 16 hours and 21 minutes and average time of 5:03 min per 1 km. Moreover this team won the third place and bronze medals in the relay race in the mixed (men and women) category!

The 25th UNIFE General Assembly, the Association of the European Rail Industry, was held over 22 – 24 June 2016 in Amsterdam. Within this event, additionally 11 companies were admitted as a new member of UNIFE.
The OLTIS Group Company, as a member of UNIFE since 2009, was represented by Mr. Miroslav Fukan, Mr. Petr Kroča and Mr. Jiří Čáp. Besides General Assembly, they attended a plenary session and took part in a meeting of working and executive committees. Mr. Miroslav Fukan actively participated in the Presiding Board and SME Committee meeting. Mr. Petr Kroča represented the OLTIS Group Company in the Digitalisation Platform and Communications Committee. Mr. Jiří Čáp represented the OLTIS Group Company at the Freight Committee where the trainings and discussions relating to the ERIFA position document were organized. This document should provide basis for the European Commission in terms of the rail freight development.
Mr. Miroslav Fukan, Executive Director of the OLTIS Group Company, as one of the panellists actively participated within the panel discussion concerning the EU Rail Industry Competitiveness and Market Leadership (public procurements, trade, research and development) within the framework of the General Assembly Day. The following speakers took part in this session as well:
Martina Werner, Member of the EP, European Rail Industry Committee and a Rapporteur for the EP resolution on Competitiveness of the European Rail Industry
Gwenole Cozigou, Director of Industrial Transformation and Advanced Value Chains, DG-GROW, European Commission
Carlo Borghini, Executive Director of Shift2Rail JU
Laurent Troger, Chairman of UNIFE and President of Bombardier Transportation
Chris Jackson as a moderator, the Railway Gazette's Editor-in-chief.
Additional topics for discussion were EU Investment for Rail (EU Funds, CEF, Juncker Investment Plan, PPPs) and Rail and EU Transport Policy (Implementation of the 4th Railway package, Standardization, ERTMS). Throughout this event, continuous negotiations appeared among partners concerning the international projects in affiliation with Shift2Rail and other OLTIS Group activities.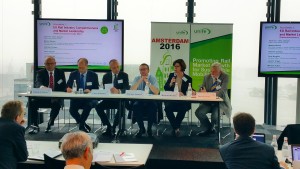 At the beginning of June 2016, the OLTIS Group Company organized the eighth annual social sport event – OLTIS THREE BALLS Cup for its business partners and friends. As in previous years, this program consisted of a double tennis tournament – JERID Tennis Cup, bowling tournament – CID Bowling Cup followed by an informal social event along with a golf tournament – OLTIS Group Golf Cup. Its total number of 129 visitors marked the popularity of this event.
The triathlon was launched on Wednesday morning, June 8 by a golf tournament for green card holders at the 18-hole championship course along with golf beginners at the 9-hole academy in Golf Resort Olomouc. This program was followed by an informal social event and a bowling tournament at Bowland Olomouc. The entire event finished with a tennis tournament on Thursday, June 9 at the tennis courts in Véska u Dolan.
We would like to thank all participants and we are looking forward to our next events organized by associated companies with the OLTIS Group Company.