The OLTIS Hungaria Company participated at this year´s forum of Hungarian carriers, which was held on October 12, 2016 directed by the Forum Academy.
Participants of this conference were introduced to not only series of specialized lectures but also had the opportunity to get acquainted with our company's IT products and solutions. Moreover, we have agreed to arrange several more in-depth and comprehensive presentations along with demonstrations of our IT solutions for our visitors. In addition to the Forum of Hungarian carriers, it will be another very important event for our company, The Forwarding Conference that will be held on 1-2 December 2016 in Radisson Park Hotel in Budapest.

The eleventh year of Europe's largest transport technology fair – InnoTrans 2016 – was held in Berlin on 20-23 September 2016. Exhibitors and companies associated with the OLTIS Group have traditionally participated in this fair. Their representative exposition was located in Hall 4.1, Stand 312.
The participation in this particular fair was a great success for us, both in business and professional means. The evidence of our benefit arises from the number of meetings attended by representatives of our current and potential customers, partners from academia and international organizations. We participated in a number of conferences, introduced innovations of our products but also presented new trends in the area of information systems for transport and logistics.
The independent part of our participation was the presentation of a European research project CAPACITY4RAIL, which took place at preassigned times at our stand during the three days of this fair. Together with our partners from the UK and Sweden (NetworkRail Swedish Transport Administration, TRL, IFFSTAR and Birmingham universities and Linköping), we were delighted to introduce results achieved in the project SP3 – Operations for enhanced capacity. The OLTIS Group promoted and presented two applications for this project: CAIN (CApacity of INfrastructure) – Implementation KADR for Swedish infrastructure and CAPTAIN (CApability Trade-off Automation model of INfrastructure) – Reference model to compare railway infrastructure and the automation capabilities.
In addition, the next event at our stand was "The Hungarian afternoon" on 22 September, which was organized by our subsidiary company OLTIS Hungaria. The visitors could attend all presentations about our products in the Hungarian language.
All our business partners who visited our stand, we thank you for your participation and we look forward to our further cooperation!

On the July 8, the EU Member States officially approved transport projects that will receive €6.7 billion of funding under the Connecting Europe Facility (CEF) fund. Projects submitted under the Cohesion call may receive a co-funding rate up to 85% of the eligible costs.
From the total number of 427 proposals, 195 projects were selected, which will significantly contribute to digitalisation and decarbonisation of transport. A list of successful projects also includes a project of the company OLTIS Group with a budget of €1.1 million, under which the implementation of TAF-TSI specifications at ten private railway operators will be delivered in the Czech Republic and Slovakia in 2017-2019.
The main objective of the project is the implementation of standards for TAF-TSI data exchange in information systems used by private rail operators for planning and operational support of their activities. The TAF-TSI (Regulation on the technical specification for interoperability relating to the telematic applications for freight) requires that existing functionalities are enhanced by communication with infrastructure managers, cooperating operators and wagon keepers. The project aims to implement the above functionalities based on TAF-TSI so they can be effectively used by private operators.
This project aims to help private operators who have not yet used complex systems operated by large or national operators and who must now meet the requirements in terms of complexity of the required functionalities. The project will allow these private operators to achieve full interoperability when employing less costly but equally complex solutions compared to big national operators.

CID International Company organized an individual's golf tournament CID Golf Cup for its friends and business partners on Thursday, 21 July 2016.
Venue: Park Golf Club Ostrava, Dolní 412, Šilheřovice
This tournament was part of the third year's GOLF RAIL IT TOUR 2016 and simultaneously the third tournament of this year's golf tour.
Results: 
Category Bronze – Common HCP 34,1 – 54
1. Jan Jakeš (private person)
2. Petr Sedláček (S&G safe grow s.r.o)
3. Lucie Jirků (private person) 

Category Silver – Common HCP 22,6 – 34
1.  Martin Hapl (Rankenen a.s.)
2. Milan Šubrt (Josef Mička)
3. Štefan Mestický (Oltis Group)
Category Gold – Common HCP +9 – 22,5
1. Jan Holeš (Rankenen a.s.)
2. Tereza Hoffmannová (ALMA Consulting Group Česká republika, s.r.o.)
3. Luděk Telecký (TECHNISERV IT, spol. s.r.o.) 

Longest drive MEN
1. Jakub Szurlej (Schavemaker Invest Sp. z o.o.)
2. Marek Ambrus (LOKO TRANS Slovakia, s.r.o.)
3. Petr Baroch (České dráhy a.s.)
Longest drive WOMEN
1. Leona Žáková (private person)
2. Tereza Hoffmannová (ALMA Consulting Group Česká republika, s.r.o.)
3. Tereza Skládanková (TECHNISERV IT, spol. s.r.o.)
Nearest to the pin – Miroslav Waleczek (Hyundai Motor Manufacturing Czech s.r.o.) –  1,35 m
Overall results of the Gold Rail IT Tour
1. Luděk Telecký (TECHNISERV IT, spol. s.r.o.)
2. Jiří Nepustil (INDI s.r.o.)
3. Marek Lošťák (ORBI TRANS s.r.o.)
We would like to thank all competitors for their active participation and we look forward to our next meeting at other events organized by associated companies within the OLTIS Group.

The relay running race SNĚŽKA – PRAGUE took place during the weekend of 25 – 26 June 2016. A group of 3-7 runners had to face a day and night continuous relay run of 197km from Obří důl pod Sněžkou to Prague's Troja.The entire route with the elevation of 2083 m ascent / descent 2951 m, was divided into 20 sections. Each of seven-member team run three approximately ten kilometres stretches.
The seven-member OLTIS Group team formed also by two women and with an average age of 44 years, started from Obří důl pod Sněžkou on Saturday at 6:30pm and finished their run to Prague on Sunday shortly before 11am. The OLTIS Group team occupied an excellent 7th place out of 26 participating teams with its final time of 16 hours and 21 minutes and average time of 5:03 min per 1 km. Moreover this team won the third place and bronze medals in the relay race in the mixed (men and women) category!

The 25th UNIFE General Assembly, the Association of the European Rail Industry, was held over 22 – 24 June 2016 in Amsterdam. Within this event, additionally 11 companies were admitted as a new member of UNIFE.
The OLTIS Group Company, as a member of UNIFE since 2009, was represented by Mr. Miroslav Fukan, Mr. Petr Kroča and Mr. Jiří Čáp. Besides General Assembly, they attended a plenary session and took part in a meeting of working and executive committees. Mr. Miroslav Fukan actively participated in the Presiding Board and SME Committee meeting. Mr. Petr Kroča represented the OLTIS Group Company in the Digitalisation Platform and Communications Committee. Mr. Jiří Čáp represented the OLTIS Group Company at the Freight Committee where the trainings and discussions relating to the ERIFA position document were organized. This document should provide basis for the European Commission in terms of the rail freight development.
Mr. Miroslav Fukan, Executive Director of the OLTIS Group Company, as one of the panellists actively participated within the panel discussion concerning the EU Rail Industry Competitiveness and Market Leadership (public procurements, trade, research and development) within the framework of the General Assembly Day. The following speakers took part in this session as well:
Martina Werner, Member of the EP, European Rail Industry Committee and a Rapporteur for the EP resolution on Competitiveness of the European Rail Industry
Gwenole Cozigou, Director of Industrial Transformation and Advanced Value Chains, DG-GROW, European Commission
Carlo Borghini, Executive Director of Shift2Rail JU
Laurent Troger, Chairman of UNIFE and President of Bombardier Transportation
Chris Jackson as a moderator, the Railway Gazette's Editor-in-chief.
Additional topics for discussion were EU Investment for Rail (EU Funds, CEF, Juncker Investment Plan, PPPs) and Rail and EU Transport Policy (Implementation of the 4th Railway package, Standardization, ERTMS). Throughout this event, continuous negotiations appeared among partners concerning the international projects in affiliation with Shift2Rail and other OLTIS Group activities.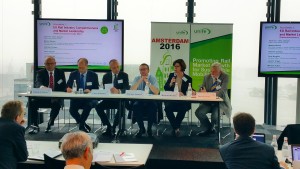 At the beginning of June 2016, the OLTIS Group Company organized the eighth annual social sport event – OLTIS THREE BALLS Cup for its business partners and friends. As in previous years, this program consisted of a double tennis tournament – JERID Tennis Cup, bowling tournament – CID Bowling Cup followed by an informal social event along with a golf tournament – OLTIS Group Golf Cup. Its total number of 129 visitors marked the popularity of this event.
The triathlon was launched on Wednesday morning, June 8 by a golf tournament for green card holders at the 18-hole championship course along with golf beginners at the 9-hole academy in Golf Resort Olomouc. This program was followed by an informal social event and a bowling tournament at Bowland Olomouc. The entire event finished with a tennis tournament on Thursday, June 9 at the tennis courts in Véska u Dolan.
We would like to thank all participants and we are looking forward to our next events organized by associated companies with the OLTIS Group Company.

The OLTIS GROUP Company as one of the conference partners supported the initiating first edition of the international logistics conference SpeedCHAIN Slovakia held over the 19-20 May 2016 in Slovakia at the Zochova chata (Zochova Cottage).
This two-day conference delivered a lot of interesting debate topics under the slogan "Logistics: Challenges and Solutions". The success of the Slovak logistics was disseminated in the congested hall, which could benefit from a European perspective to constitute new sections. The three sessions of this conference displayed a comprehensive overview of the major themes of contemporary Slovak logistics and its integration within the logistics sphere of Central and Eastern Europe. The lecture program presented an issue of demand for quality education, rapid development of transport and logistics infrastructure, the gradual degradation of legislative barriers in modern business in order to reduce crimes and other negative factors that objectively decelerate potential growth of the Slovak economy. Mr. František Komora, as the president of the Union of logistics and forwarding of the Slovak Republic, presented the risks associated with opening the borders, while moderating the afternoon session of the first-day conference.
The divided thematic sessions of this conference offered participants not only lectures held by Slovak and foreign experts from different economic areas, but also a variety of specific issues along with several panel discussions. The discussion forum activities occupied most of the time before opening the evening social program in order to provide necessary scope for professional network.
Mr. Radomír Bača, the business manager of CID International, introduced an interesting lecture on "Effective tools for the dispatcher to transport planning", which appeared in the session of "Innovative logistics solutions – Logistics Fitting Model".
An exhibition offered a new opportunity to meet with customers and enabled the representatives of the OLTIS Group to present a wide range of products for logistics and storage with its own stand.

On 19 May 2016, OLTIS Hungaria took part in the IX. Railway workshop in Budapest in the conference hall of the Park Inn By Radisson Hotel.
This event, organized by a Hungarian Company Fórum Média, was attended by almost 150 experts from the railway sector. Mr. Zoltán Nagy from OLTIS Hungaria presented his lecture about the implementation of RSRD database systems requirements, which is a current topic for the companies that own or operate railway vehicles.
Furthermore, there was a brief demonstration of the solutions provided by the company OLTIS Hungaria due to which the railway vehicles owners and operators can meet the RSRD database systems requirements.
Official information about the event is available on:
http://forum-media.hu/landing/rendezveny/ix-vasuti-trening

On 11 May 2016, CID International organized the presentation of IT-news on the Nosreti winery premises for its customers.  The principal theme was mobile technologies and the role of such advancements in the entire spectrum of our lives, including logistics.
An interesting discussion ensued about the Smartphone application intended for reciprocal communication between the dispatcher and the driver. This application allows on-line transfer of drivers´ activities directly to the Dispatcher Sheet in the LORI system, inclusive of support for automatic formation of electronic STAZ, a module for evidencing incidents (including photo documentation) and working with bar or QR codes.
There was tremendous interest for our web order, built on the MVC (Model-view-controller) platform, for which CID International devised a mobile application for simple entering and transparent checking of orders on the web via a Smartphone.
Other news of interest to the attendees included a module for user editing of printing lists, a new version of the Dispatcher Sheet and a new module for calculation and simulation of the relevant parameters of order selection.
The concluding lectures related to the current founding programmes pertinent to the transportation sector; in particular, the new perspective technologies of the French company SIGFOX that uses a network of ground stations. In the Czech Republic, this is ensured by the T-Mobile company. The main advantage of this solution is ordinal lower operating and purchase costs compared with the current extended GPS and GPRS systems.
The conference was attended by 30 participants from 12 companies. They not only received the introduced news very positively but also appreciated the opportunity to engage in fruitful discussions and hold informal exchange of experience following conclusion of the official part of the programme.
CID International would like to thank all participants for their interest in our solutions and looks forward to having you again at similar occasions.