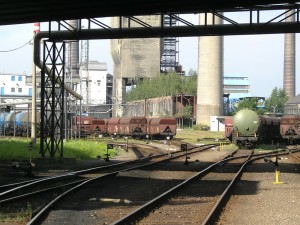 Central Siding Agenda
Comprehensive support of the activities of a RU pertinent to siding operation. Comprehensive support of the activities of a RU pertinent to the operation of loading spots.
Mutual hand-out of wagons with the customer, charging the transport operations
Registering the mutual hand-out of wagons between the RU and the customer at the siding or another loading spot, registering the pertinent operations of the RU and the customer
Mutual charging the transport operations based on the valid tariffs or agreed upon prices and charging exceptions
Automatic information transmitting on wagon delivery and dispatch for RU's ISs (as CEVIS, ÚDIV)
Automatic data export on charged wagon operations for the wagon register
Agreements, charging rules
Supporting the agenda for all the agreement types, schedule of regular services, registering all the agreements
Automatic notification of all the stakeholders (as the RU management, invoicing department, or railway stations) on changing specified agreement types (new agreement, terminating an agreement, altering an agreement)
Supporting operations above various identification sheets, exploiting regular and exceptional charging rules
Communicating with the customer
Automatic export of all the customer reports pertinent to balancing
Exporting other reports required by the customer
Data exchange with the customer's information system: mutual wagon hand-out, balancing
Supporting the supervisory and management activities
Supporting the supervisory tasks of the invoicing department in the siding or loading spot clerk – special checking panels for the invoicing department working on balancing the services, wagon dwells, and charges
Reports for supervisors and management at all the levels: – mutual wagon hand-out, services, agreements, utilizing the regular services…
Download Product list here.