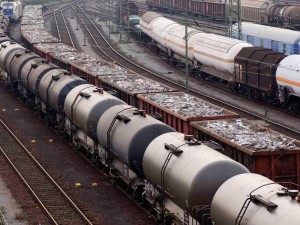 Information system of a railway operator
The EVAL application is intended for operators and forwarders who organize train transport. Its principal advantage is that it centralizes all the data on wagons, engines, and personnel, making it accessible at any time to provide an effective method of planning the trains, including the issuing of necessary train documents.           
What EVAL facilitates
It allows to plan with ease, to monitor at any time, and to evaluate on an immediate and ongoing basis the performance levels of all trains, engines, wagons, and personnel of both the public railway network and the sidings /01
It keeps continuous track of orders – from accepting the order, to planning its transport, to ordering and execution, and to preparing the underlying data for invoicing and cost division
It can automatically transfer data into invoicing software, or to issue an invoicing document directly, according to the pricelists and operational information
It records and plans the repair, maintenance, and upgrade/ overhaul of engines, machines, and other equipment
Key Functionalities
The principal benefit of the solution by OLTIS Group is its comprehensive coverage, interconnectivity of its applications and/or modules, and its flexibility to adjust to your particular needs. The EVAL application constitutes an effective tool which allows:
To monitor the position of wagons, engines, and machines using GPS (if equipped)
To track execution of planned train route and wagon position using the interface to the systems of MI (e.g. CEVIS, ISOŘ)
To render and view the position of wagons, engines, and machines in a digital railway map
To send requests for assigning the infrastructure capacity for creating a train path using the data interface to ISOŘ KADR
To keep record of the performance of personnel and engines (including the gauges status, e.g. fuel gauge, oil gauge, odometer, engine hours, kWh)
To alert of upcoming or expired revision dates of engines or devices, and forbid using them
To keep record of all the technical devices at the engines and wagons as separate components, complete with the history of their placement and repairwork /02
To append the revisions and reports in electronic form
The functional scope is much broader, however, and EVAL is open to future extensions and customized modifications, including the extensions by new data interfaces to any of your information systems.
Download Product list here.