Controlling the train traffic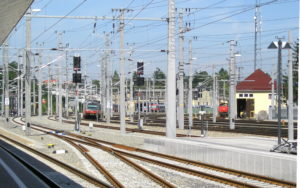 Supporting the activities of railway dispatching control (railway operator, railway undertaking). Keeping the shift plan, managing the hauling vehicles and engine drivers, distributing the operative plans.
The highlighted functionalities
Automatic scheduling of the train operation including exceptions for the operating day
Automatic scheduling of assignment of the hauling vehicles and engine drivers to the services
Alerting the dispatcher to a necessary intervention
Collecting data on the train movement and other events in a railway station, scheduling bound to a simplified data capture and to checks between the expected and real operation
Automatic distribution of the plan and of preadvices of the train positions, hauling vehicles and engine drivers to the neighbouring systems
Querying interface to the schedule and real-time situation for both internal and external workplaces
Configurable client application for specific use at the specific workplace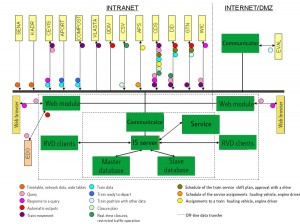 APORT – a portal application for entering the train data
APS – automated crew master
CDS – central dispatching system
CEVIS – central wagon information system
COMPOST – monitoring the Composition of Train
CSV – central closure system
DD – electronic station master
EDO – monitoring the working time (train crew)
EVAL – a RU's application for managing the train traffic
GTN – a GUI-based technological application above an interlocking system
KADR – a system for assigning the railway capacity
SENA – designing the graphical timetable
ÚDIV – central wagon dispatcher
VLASTA – system of a marshalling yard
WIC – web-based CEVIS terminal
Communicator – a communication gateway of ISOŘ
Web module – web-based application of the querying module
IS server – controlling the communication of ŘVD
Service – application and database server ŘVD for importing the timetables, network data, and code tables
Master database – application and database server ŘVD (priority input processing)
Slave database – application and database server ŘVD (priority query processing)
ŘVD clients – a client application of ŘVD
Product benefits
Cutting the count of dispatchers, eliminating workplaces of an operator at the dispatchers' workplace and at some workplaces in stations via automation and data connection
Increasing effectiveness of the supervision together with decreasing the employee count in the analysis departments
Eliminating the phone-based communication of the shift plan, hauling vehicles and engine drivers assignments among the dispatching regions and districts, as well as to the stations and engine depots, replacing with data outputs
Automatic binding of the shift plans to the real-time data, calculating the mileage of hauling vehicles, alerting to change a hauling vehicle, an engine driver, or banking engine
Automatic assignment of the hauling vehicles and engine drivers to services according to the circulation or roster
Lowering the information burden of a dispatcher via automatic data interchange with neighbouring applications
Replacing the document archiving for data archiving, with online access and searching
Download Product list here.