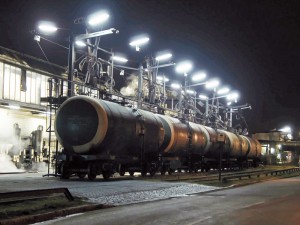 Information system of transport and logistics
ISDL provides easy and convenient management of enterprise logistics, including planning of transport costs, instant monitoring and ongoing tracking of the plan from the financial and performance perspectiveand automatic recording of all the information on transport and manipulation in the chain: Supplier – Purchase – Production – Sales – Transport – Customer.           
What ISDL facilitates
It tracks the material entering the production plant, its movement within the plant, output and despatching to the customer, and it keeps precise, direct register of the performances and costs of a consignment.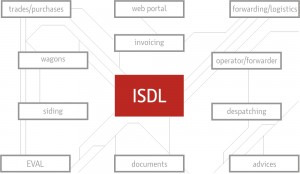 All the data are concentrated in one place where they are available at any time for any other usage.
Railway transport
Controlling the siding – loading plan, tracking wagons, preparing and printing the documents, wagon labels, train documentation, generating the siding account /02
Importing the advices of railway vehicles
Administrative preparation of vehicles at the siding – hand-in and hand-out sheets
Automatic advice generation and delivery for the consignments sent
Generating data for invoicing and their division among the siding users along with calculating the carriage
Tracking the wagon position outside the production plant
Managing owned or ented wagons, invoicing, and dividing the cost of owned wagons
Monitoring the planned maintenance, upgrades, and repairs
Road transport
Managing the road transport – loading and unloading plan, preparing and printing the transport documents CMR, ADR
Importing advices of the individual vehicles
Gate services – registering the vehicles entering and exiting, permissions to enter
Automatic carriage calculation according to the price lists
Direct recording of costs and their assigning to consignments, wagons, services
Internal manipulation – ordering and tracking the services of loading and unloading crews and manipulation equipment (forklifts, cranes, road vehicles)
Special Functionalities
The ISDL system is very flexible and it can offer you those functionalities which help to solve your specific requirements. To name a few examples:
Monitoring the vehicles outside your plant using an integrated GPS system of the operator
Viewing the vehicles current position on a map
Weighing server – communication with a railway and road weighing scale, e.g. Pivotex, Schenck, Wesico, Cardinal
Communication with filling equipment systems for powdery and liquid materials
Data interfaces to the enterprise information systems, as SAP R/3 – reading functions (basic data on customers, suppliers, materials, exchange rates, orders, quality) – writing functions (accounting, controlling, warehousing)
Data interfaces to external information systems of forwarders and operators – information on wagon position (CEVIS, ISR) – information on handing wagon to the siding or vice versa (Siding agenda ČD) – information on the consignment (CDZ)
We ensure high data flexibility – our system can be customized for importing and exporting data in any format and any structure. The ISDL system integrates among others the WEB portal which allows the forwarders specifying the carriage fees for the destinations demanded in bids. The WEB portal allows:
Easy ordering a transport or rejecting an offer
Review of the ordered transports and their status
Integrated interfaces into the transport modules of ISDL
Download Product list here.