Forwarding information system
NEWSPED information system is a versatile tool for the freight forwarding company providing full technical support related to the arrangement and management of the entire transport chain from the acceptance of the initial shipment requirement to the issuance of the customer invoice, checking of the received supplier's data and the shipment's financial evaluation.
General Features 
Covers the decisive workflow of a forwarder
Individual system setting according to the customer needs
Independent of the transport mode
System respects the client company structure with the option
to restrict access to data
Multilingual support (CZ, SK, EN, DE, RU, PL, HU, RO, IT, SL) with the ability of easy extension
Support of electronic data exchange with other systems
Application in trading and manufacturing companies shipment departments
Key Features 
Listing of business partners and other support catalogues
Registering requirements
Creating price lists and price log, links to electronic tariffs, electronic exchange of price lists
Calculating price offers including making of calculation sheets
Shipment register
Issuing customer invoices including automatic invoicing per business case
Processing of incoming invoices and their concurrence with budgeted costs
Importing electronic invoices from supplier (format support for
CD Cargo, EDI, invoicing from ZSSK Cargo, DB Schenker, etc.) 
Electronic data exchange with accounting and other information systems
Evaluation of business cases
Checking of business partners, credit management
Simplified road module for rapid registration and road transport processing
Module for fleet management of wagons, road vehicles and containers – card file, leasing, subsequent lease, price calculation, registration and planning of inspections and repairs directly linked to haulage activities
Data warehouse for controlling, management and strategic decision needs
MAIN BENEFITS 

Complex processing of each business case
Effective issuing of invoices adapted to forwarder´s activities
Fast checking of suppliers invoices with budgeted costs
A number of reports for operating data evaluation
Powerful tools for economic evaluation of business cases (reports,
data warehouse)
Electronic data exchange with other systems
Electronic communication with partners
SELECTED REFERENCES
ALZA Cargo Sp. z o.o., BUDAMAR LOGISTICS, a.s., Carbo-Sped Sp. z o.o., CZ Logistics, s.r.o., Express Group a.s., FORWARDIS GmbH,
Rail Cargo Logistics – Czech Republic s.r.o., INVESTEX GROUPS, a.s.,
NH-TRANS, SE, ORBI Trans, s.r.o., Ostravská dopravní společnost, a.s.,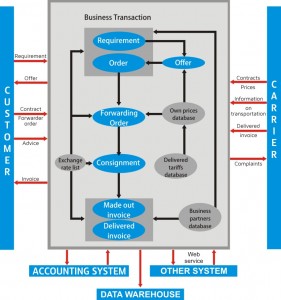 RENTRANS International Spedition Sp. z o.o., SPED TRANS Polska Sp. z o.o., ŠPED-TRANS Hungária Kft., ŠPED-TRANS Levice, a.s., UNICOM TRANZIT S.A., WOOD & PAPER a.s.
Download Product list here.