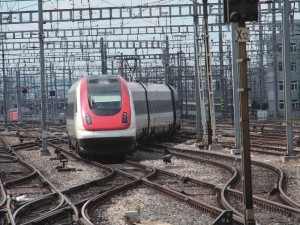 Selling the railway capacity
In the scope of liberalized transport market, the KADR application is an indispensable tool for selling spare capacity of the railway infrastructure and for planning the ad hoc trains.           
Highlighted Benefits
User-friendly agenda of the Path Requests for ad hoc trains, including an integrated interface according to the TAF TSI standard, message Path Request, based on a web service
Allows printing the Path Request and exporting it in formats PDF, RTF, or HTML
Allows generation of statistical and financial reports data at any time based on the selected path requests including exporting them into formats PDF, RTF, HTML, or XLS
The interface for the infrastructure manager provides a quick way to design train paths and an instant response to the dynamic operators' requests
When designing an ad hoc path, the fat client offers the most suitable available catalogued paths and in a graphical manner it notifies the user about the pending infrastructure restrictions (as infrastructure temporary closures, service restrictions etc.)
Extensive automatic communication with neighbouring systems of both MI and operators:
ISOR RVD – controlling the train traffic
ISOR CDS – central dispatching system
CSV – central closures system
CIS – nationwide information systems on timetables
KANGO – system for designing the basic timetable
REVOZ – vehicles register of the infrastructure manager
EVAL – operational management of the agenda of an independent operator
EMAN – optimized planning of the marshalling processes
Activating/deactivating train paths including simplified preparation of the shift plan For achieving maximum benefit of safe and convenient operation,we can offer outsourcing of both the systems and servers administration and/or operation
Special Functionalities
Communication with operators' applications using the web service of KADR according to the TAF TSI specification, message Path Request
The special GUI of the infrastructure manager allows rendering of all the train paths in the end-to-end route section, including both textual and graphical rendering of conflicts
The fat client for the infrastructure manager allows for aneasy instal-lation and automatic upgrades
Rendering the infrastructure restrictions in a railway network map allows for the filtering of the time periods
With its standardized processes, KADR fulfils the legislative provisions of a fair, non-discriminatory access to the railway infrastructure, and provides all the operators with instant and up-to-date information on the opportunities and conditions for entering the network.
Download Product list here.